Come at the library and discover all the great new books in English and in French!
A découvrir
Les pierres d'Emma,
d'Anne Renaud et de Leanne Franson

FRE E REN
Le monde fabuleux de Monsieur Fred,
par Lili Chartrand et Gabriel Grimard
FRE E CHA
Elizabeth a peur de l'échec,
de Danie Noreau et Andrée Massé. Une histoire réaliste sur l'anxiété qui raconte les expériences que vivent les enfants. dans la même collection:
Une histoire sur ...la colère, le bégaiement, la dyslexie, l'hyperactivité, les lunettes, le surplus de poids, etc.

FRE E NOR
La véritable histoire de Titus le jeune Romain gracie par l'empereur,
de Pascale Bouchié
Des histoires illustrées pour raconter l'Histoire réelle

FRE E BOU

Lili Brown, Le petit mensonge,
de Sally Rippin... et tous les autres livres de la même série.

FRE F RIP

Switch, Danger mutation immédiate!,
de Ali Sparkes, les aventures des jumeaux Léo et Jules qui se transforment en insectes à cause du SWITCH.
F SPA




Les caprices du petit prince,
de Dominique Dupriez et Frédéric Rébéna
Un petit conte sur le thème de l'enfant roi. 
FrE F DUP
Parvana, une enfance en Afghanistan,
de Deborah Ellis
Ce livre raconte l'histoire de Parvana, une jeune fille de 11 ans qui vit la guerre en Afghanistan.

FRE F ELL

And many more...
In English
Colors of me,
by Brynne Barnes,
celebrates the colors of the world.

E BAR

The Big Box,
by Suzanne I. Barchers
5 friends find a treasure that does not belong to them. Will they keep it or try to find the owner?
This book is about being honest, responsible, and working together.
E BAR
Polar Bear, Polar Bear, What do you hear?,
by Bill Martin Jr/ Eric Carle
Special edition of the beloved classic.
E MAR
The Extrordinary Files: the Puppet Master,
by Paul Blum
Headmistress or hand puppet? Who is running the school with the best scores in the country? Agents parker and Turnbull go undercover to investigate.
PB F BLU
Captain Underpants and the terrifying return of Tippy Tinkletrousers,
by Dav Pilkey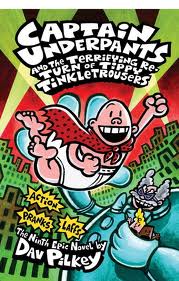 F PIL
The Flash: Clock King's Time Bomb,
by Tulien Shoening & Decarlo Loughbridge
F TUL
Home-Field Football,
by Jake Maddox
Mason is stuck in a new town where he will try to help his new home team.
F MAD
Amulet, Book 5, Prince of the Elves,
by Kazu Kibuishi
The enemy grows stronger...
GN F KIB
Graphic Biography: Steve Job, Saddleback educational publishing

Art is..., by Bob Raczka. Art comes in many forms: a lamp, a rug, a ceiling, etc.

701 RAC
A Bully-Free School, by Pamela Hall
Learn how everyone can work to make a Bully-Free World!

371.58 HAL
And many more....