7 days left before Halloween... come and visit the library: On display:
Picture Books:
1.
What's in the witch's kitchen,
by Nick Sharratt
E SHA
Open the special magic flaps one way, and you'll find a yummy surprise. Open them the other way, and you're in for a yucky shock!
2. The House that Drac Built, by Judy Sierra
E SIE
In this picture book, the inhabitants of a haunted house get increasingly agitated until a group of children sets things right.
3. The Monster Bed, by Jeanne Willis & Susan Varley
X WIL
This story of a bedtime surprise is the perfect book for little monsters.
4. The Legend of Sleeping Hollow, by Diane Wolkstein
Readers are invited in the bewitching world of Sleepy Hollow, where nothing and everything happen....
5. Wempires, by Daniel Pinkwater
XPIN
Jonathan wears a vampire costume to school. But when real vampires show up, he discovers what neat guys vampires really are.
6. In a Dark, Dark Room and Other Scary Stories, by Alvin Schwartz


E SCH

Creak...Crash...BOO!



7. The Bones of Fred McFee, by Eve Bunting



EBUN

When two children bring home a toy skeleton from the harvest fair, hanging it from a sycamore tree and naming it Fred McFee, strange things begin to happen, in a hauntingly hilarious Halloween tale.

And many more.....
Fiction
1. More Scary Stories...to tell in the dark, by Alvin Schwartz
Scary Stories 3...

more tales to chill your bones,
by Alvin Schwartz
F SCH
FSCH
A collection of the macabre, the funny, and the fantastic.
2. The House is Hunted, by Maureen Bayless

F BAY
Howard's family has a new house — a new old house that is. It has twenty-nine rooms full of spiders and creaky noises. It has a dark spooky basement. And it has a ghost. Howard can live with the rest, but he won't share a house with a ghost. He'll do anything — even face Punch McLaredy and his pet snake Chokey — to get that ghost out!
3. The Graveyard Hounds, by Vi Hughes
F HUG
It's October. storms rage, fires break out, and a mysterious visitor appears. When the dogs in town lose their barks, Mike and Annie set out to solve the mystery.Can Mike and annie stop the deadly curse of the Graveyard Hounds?
4. The Missing Mummy, A to Z Mysteries, by Ron Roy
F ROY
A mummy is stolen from a museum and the tomb robbed of its treasure. Can Dink, Josh, and Ruth Rose unravel the mystery and return the mummy to its rightful resting place?
5. The Witches, by Roald Dahl
F DAH
Grandmamma loves to tell about witches. Her grandson listens to her stories but nothing can prepare him for the day he comes face to face with the Grand High Witch herself!
And many more.....
NON FICTION
6. Fear this Book, by Jeff Szpirglas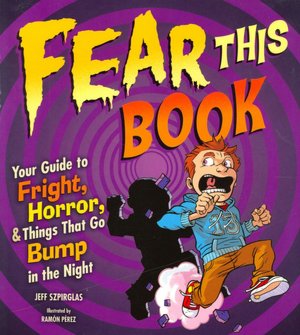 152.46 SZP
This book fills you in on every shivery detail and spine-tingling fact about scary stuff.
And many more.....
Magazines
OWL, What's it like to hunt for Ghosts?