Text to Self Connections
Alexander and the Terrible, Horrible, No Good, Very bad Day, by Judith Viorst
E VIO
Every one has a bad day now and then, to which all readers can relate.


Amazing Grace,
by Mary Hoffman

F HOF

Grace learns that she can be anything she wants to be.


X DEP
Oliver Button is a Sissy, by Tomie de Paola
Oliver loves to tap dance until kids
start to make fun of him.

and many more...
Text to Text

Fly away home, by Eve Bunting
This is a story of a little boy and his father struggling to survive homelessness by living in an airport.
 
My Rotten Redheaded Older Brother
by Patricia Polacco
Sibling rivalry, of course.

X POL

The Keeping Quilt, by Patricia Polacco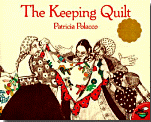 X POL

The story of the author's ancestors, and the importance
of carrying on family traditions.

A Picture Book of Anne Frank


by David A. Adler
Pictures from Anne Frank's family photo albums

illustrate what her life was like before and during the war,

providing mesmerizing reading for anyone interested

in Anne's diary and her fate as a Jewish child

during World War II.

Photographs and cutaway drawings

of the secret annex explain the

Franks' life in hiding.

X GRA

and many more.....
Text to World
Dear Willie Rudd
by Libba Moore Gray
A woman late in life thinks back to the things
she would have liked to have
done with her beloved black housekeeper:
go to the movies, have dinner, and
ride the bus. Segregation prevented all of this.
E SAY



Grandfather's Journey, by Allen Say
Like his grandfather, Allen Say feels that
"the moment I am in one country,
I am home sick for the other."
The story moves between two cultures,
describing his grandfather's life in Japan
and adventures in the United States.
X BUN
Smoky Night, by Eve Bunting
A story set during the Los Angeles riots in the 1980's.
Two lost cats go a long way toward bringing people
together who couldn't get along.
X GAR
The Lotus Seed, by Sherry Garland
The story of a young woman who flees Vietnam,

taking a lotus seed as a remembrance of

the emperor and her country.

The dangerous journey, life

in a new land with her family,

and eventually being able to honor her past

and native country illustrate the importance
of memories and traditions.
When Jessie Came Across the Sea
by Amy Hest
The rabbi in Jessie's village chooses her travel
to
America to start a new life.

X HES
Jessie's letters back to her beloved
grandmother
tell about her new life on New York's
Lower East Side.
Letters from Jessie are interspersed throughout the text.
and many more on display.....