Maurice Sendak was an author/illustrator who has spent his life bringing to life a world of fantasy and imagination. His unique vision is loved around the globe by both young and old. Beyond his award-winning work as a writer and illustrator of children's books, Sendak has produced both operas and ballets for television and the stage. Dewson Library has over 15 books written and/or illustrated by the great Maurice Sendak
among which:

Picture Book, E SEN

Chicken Soup With Rice by Maurice Sendak.
In this book, the author
u
ses chicken soup
as a unifying theme to present an illustrated
tour of the months of the year.

French Picture Book, E SEN
Max et les Maximonstres, Maurice Sendak

Max est un petit garçon pas très sage. Sa mère le prive de dîner
et l'envoie dans sa chambre qui se transforme en une gigantesque
forêt tropicale. La mer cogne à sa fenêtre.
Et Max embarque vers le pays des "Maximonstres".
Les "Maximonstres" sont terrifiants pour tout le monde,
sauf pour Max, qui devient leur roi.
Hector Protector, and ; As I went over the water :
two nursery rhymes with pictures 

Dewey 398.8 SEN
by Maurice Sendak. Harper & Row, 1965
Swine Lake by James Marshall and
Maurice Sendak, Harper Collins, 1999

Picture Book E MAR
A hungry wolf attends a performance of
Swine Lake,
performed by the Boarshoi Ballet, intending to eat the performers, but he is so entranced by the story unfolding on the stage that he forgets about his meal.


Picture Book E MAR

Brundibar by Maurice Sendak
andTony Kushner,
Hyperion Books for Children, 2003.
Aninku and
Pepicek find their

mother

sick
one morning,
they need
to buy her milk to make
her better.
The brother and sister go to town
to make money
by singing,
but a hurdy-gurdy
grinder,
Brunidbar,
chases them away.
They are helped by three
talking animals
and
three hundred school children,
to defeat the bully.
Brundibar

is based
on a Czech opera
for children that
was performed fifty-five times
by the children of Terezin,
a Nazi concentration camp in 1943.
The Big Book For Peace, Dutton Children's Books,1990

Dewey 810.8 BIG

The wisdom of peace and the absurdity of fighting are
demonstrated in seventeen stories and poems by
outstanding authors of today such as Jean Fritz,
Milton Meltzer, and Nancy Willard, illustrated
by famous illustrators such as Paul Zelinsky,
the Dillons, and Maurice

Sendak

Petit Ours de Else H. Minarik et Maurice Sendak
L'école des loisirs,1970
4 petites histoires amusantes.


French Picture Book E MIN

A very special house, by Ruth Krauss
pictures by Maurice Sendak
Harper and Row,1953
Discover all the strange things happening in a very special house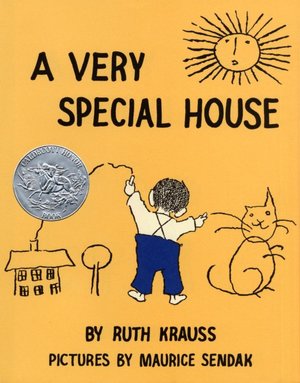 Picture Book KRA
Also in French:
La chauve-souris poète
de Randall Jarrell et Maurice Sendak
l'école des loisirs, 1980
French Fiction F JAR
La Clef d'or,
de George MacDonald
Bordas, 1980
French Fiction F MAC
And there are still a few more........